"Yes Brian, there is a Bart Yasso. He exists surely as running and shoes and sweating exist."


As I trained for the Shamrock Marathon last winter, I did well with my base miles, but my long runs were insufficient. When I trained for Philly this summer and and fall, I nailed my long runs but didn't put in the base mileage I needed during the most important month of my training.
I'm trying to excel in both this time around, but one other thing was missing both times: speedwork.

I don't really care about running a fast marathon. Sure, I'd like to get down to 4:45 or into the 4:30s, which would be a pretty significant PR, and I'd be thrilled with less than that, but overall, I just care about finishing the marathon with as little walking as possible. I'd love to not die at mile 18 or 21.5. I'm also pretty sure that if I can over come (or at least push back) the wall, I'd naturally finish the marathon a little faster even if my actual running pace doesn't increase.

But, I've been advised by several of my readers, and even by my Shamrock training program coach that speedwork was helpful for building endurance, not just getting faster. I just didn't make enough of an effort to get to the speedwork sessions in January because they were in Maryland and I was crushing everything else, and then after I got hurt I was afraid to put my knee through that pounding. (I'd gone to one of them

prior to my knee injury and was really sore the next day.) For Philly, I happily chose a training program with no track workouts.

So as I train for my second assault on Virginia Beach, I want to make speedwork a part of my training. I've decided to do a Yasso 800 program, which I first read about in Bart Yasso's

My Life on the Run,

because your minute & second lap pace has been shown to predict your marathon pace.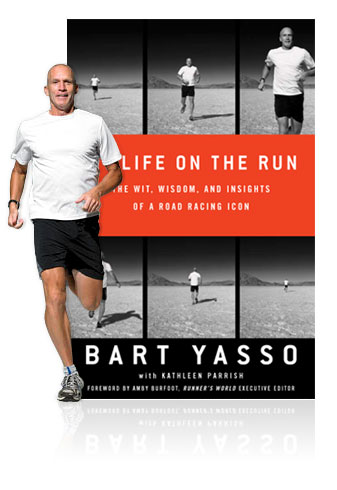 (I really enjoyed this book. I owe it a longer review in another post.)


To run Yasso 800s, you run 800 meters (as the name implies) with a rest (slow running) break equal in time to your 800 meter time. You (a beginner like me, anyway) are supposed to start with four sets when beginning the program, adding a set each week until you get to 10. So the program will get progressively more challenging, but hopefully I'll get a little stronger each week, too.

I ran my first Yasso 800s last night -- sort of. Since the local high school locks its track, and I didn't have time to go down to Springettsbury, which has a quarter-mile oval path where I've previously trained, I used the "interval training" function on the Garmin to approximate Yasso 800s. I ran a one-mile warm up, and set Garmin for half-mile (a few hundredths of a mile over 800 meters) intervals with two-minute rest breaks and did four "laps" through the suburban development that is my main running course these days.

Wow. That hurt. But it was also fun. It definitely broke up the monotony of another night run in my usual spot. Since it was the first time and I was definitely fudging things a bit, I didn't rigorously keep time, but I came in at 4:02 for my fourth lap. I'd be ecstatic with a 4:02 marathon time. In caution though, I will admit that I felt like I was sprinting these and each one got progressively harder. I only did four, so when I'm doing the full 10 I'll start to have a better feel for what I'm in for. I also feel that it shows I've gotten slower since the summer, when I ran a 6:20-something mile, since my two-miles worth "laps" not counting the rest was timed at 16:22. (8:11 pace).

I didn't speed train over the spring and summer, but I did race a lot of 5Ks so I had that extra gear I just don't feel like I've got right now. But that's ok -- If speedwork helps my endurance for the marathon, then it's accomplished my primary goal for it, but I also really think it will help me go after my 5K and mile PRs, which are going to be two of my main running goals for 2012.